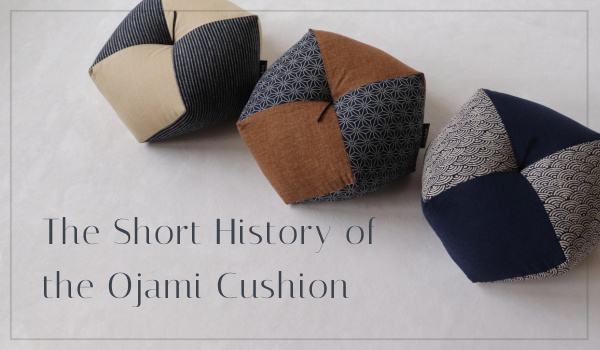 The Short History of the Ojami Cushion
We are Takaokaya's team global. This is the second post of the Kutsurogi journal. Today's story is "The Short History of the Ojami Cushion".
The Ojami Cushion is one of the most well-loved products among our customers. Its simple yet unique design, combined with our endless number of fabric choices, allows the Ojami Cushion to complement any living space.
The Ojami Cushion is an original design by Takaokaya that was developed over the last decade. The cushion was inspired by the well-known traditional Japanese beanbag toy called Otedama or Ojami in the Kyoto dialect. The shape of the cushion was first proposed by one of our sewing department craftswomen Tokioka-san.
Due to its unconventional shape, our stuffing area craftsmen, in particular, had to adapt their skill and adjust it to this new creation. It took many trials and errors until that the outward appearance and comfortability of the Ojami cushion is to the satisfaction of Takaokaya's standards.
Years later, the Ojami Cushion is a staple item of Takaokaya. We have made it in more than 100 different fabric colors and pattern combinations. Whether used as a simple floor cushion or as an interior focal point piece, the Ojami Cushion is sure to add a little more relaxation to your life.